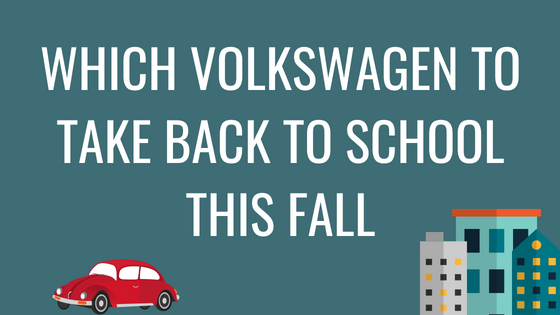 It's that time of year again—are you ready for mechanical pencils and backpacks? Going back to school doesn't have to be a dreaded event. In fact, we have a very special way to make it something to look forward to! We have it on good authority that taking home a new car makes the school transition much more enjoyable, even more so if it's a Volkswagen. Here are some tips that will make your decision much easier:
Are you heading to college this fall? Whether you're going to be an ASU Sundevil here in Phoenix or a U of A Redhawk over in Tucson, a new car can make shopping and commuting to school significantly easier. The 2019 Volkswagen Jetta is the perfect vehicle for commuting students in Arizona! It's chic, with ambient interior lighting to personalize your driving experience. It's a sturdy yet affordable model, which are obviously two of the most important aspects to consider when shopping for a new vehicle.
If you're looking for a car to bring your kids back to school in, you're in luck. Volkswagen has several SUVs that will fit all of your passengers safely, stylishly, and comfortably. The Tiguan is perfect for new, budding families while the Atlas is an excellent fit for larger crews. You'll have plenty of room for your little students while being able to cruise around in a fabulous SUV.
You can take home a Beetle or a Golf for classic yet trendy vehicles that never go out of style. Going back to school in one of those fabulous Volkswagen cars will help you simply exude confidence while demonstrating your fabulous style. Disclaimer: driving Beetle or Golf models will instantly make you the most popular member of your carpool.
For unbeatable late-summer and early fall style, opt for Volkswagen. These models are the clear choice for a stylish yet practical method of transportation. Make sure you stop by Larry H. Miller Volkswagen Avondale while you're shopping for school supplies! Our monthly specials are guaranteed to delight and satiate your transportation needs.