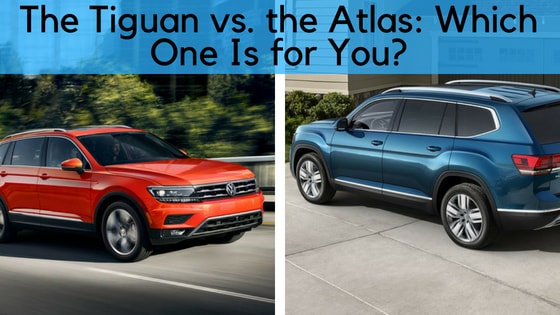 Volkswagen has really treated us within the past few years—they've gifted us with the most spectacular SUVs we could have asked for! Between the Tiguan and the Atlas, all of your transportation and automotive performance needs are completely taken care of. If you need help deciding which model is for you, keep reading—we're here to help.
The Tiguan comes with a redesigned interior that will make you feel right at home. The extra legroom accommodates passengers of all sizes, while the comfortable seats feel like a slice of heaven. It seats up to five people—or pets if you're a "pawrent"—so get your posse ready to roll. You'll love the 4MOTION? all-wheel drive that VW touts as an available option. In addition, there is also Snow Mode, On-Road Mode, Off-Road Mode, and Off-Road Custom for adventures of every caliber under the sun! Couple all of this with the standard 2.0L TSI? engine and you're ready for an utterly fabulous carpool. This is the perfect SUV for young professionals, budding families, and adventurous souls looking for a great new car.
The Atlas is Volkswagen's ode to families everywhere. This amazing testament to automotive perfection can seat 8 passengers comfortably—wow! In addition, each of those passengers has a roomy cupholder all to themselves. That's right, this SUV has 17 cupholders! This modern marvel comes with state-of-the-art technology, speakers, and safety capabilities that will entice even the most finicky of parents. In addition, you can enjoy the sturdy steel frame, 5,000-lb towing capacity, and 2.0L Turbo engine during your daily commute. This is the perfect vehicles for families everywhere!
Whether it's just the two of you or if you have four little ones that need to go to soccer practice, Volkswagen has the ideal SUV for you. Review the specs online. Then come test drive the sublime Tiguan or the roomy Atlas at our dealership in Avondale. Be sure to ask about our monthly specials so you can get the most competitive pricing possible. Your family is in for the most enjoyable carpool, road trip, or commute ever!