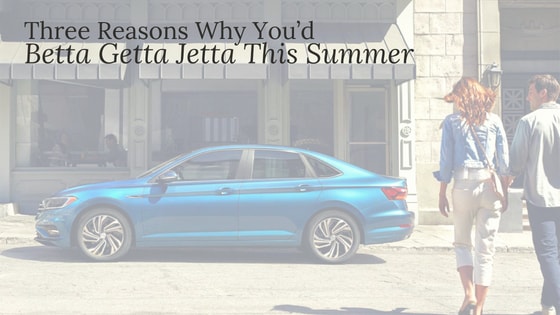 "This new Jetta is certainly competitive, not just with the rest of the compact-sedan segment but once again even with its Golf relative." Car and Driver's Jeff Sabatini was impressed with the redesign and launch of this fierce and fabulous sedan. Who can blame him? With a more stylish interior, powerful engine, and significantly more affordable price tag, it's a surefire winner. Here are three reasons why you should incorporate this beloved sedan into your Arizona commute this summer:
1. It rides well. Matt Degan for KBB reports, "the Jetta feels crisp in turns, comfortable on the highway, and confident in general. In fact, we liken it to a smaller Passat, the Jetta's midsize sibling. That's quite a compliment." Our team, too, can attest to the smooth but responsive driving that the VW sedan brings to the table. It's perfect for first-time drivers, auto aficionados, anyone on a budget, or simply people who appreciate the finer—yet affordable—things in life.
2. It's comfortable. Ron Sessions, of NY Daily News, was pleased with the layout and interior of the vehicle. "They include firm, supportive seats that don't turn into Iron Maidens after an hour or so behind the wheel, good outward visibility, and logical switch and control layouts that don't use up eyes-off-the-road time to figure out and operate." Comfort is an obviously important element to any car, more so with commuters. This model can seat five people comfortably, making it a solid choice for single commuters as well as families.
3. It's powerful for a sedan. It impressed Robert Duffer of the Chicago Tribune. He wrote, "For its 40th birthday, Jetta gets a new chassis and body while retaining the proven turbo four-cylinder engine." This is the little turbo engine that could. The standard 1.4L VW engine gets 147 horsepower, making your commute more powerful. It certainly doesn't neglect fuel efficiency, though. It's able to drive up to 40 miles per gallon on the highway. It'll certainly add a little extra va-va-voom to your Arizona summer!
We love this car. It's so well-designed and utterly fabulous. If you'd like to take a closer look, or even take it for a spin, stop by our dealership off Papago Freeway in Avondale, Arizona. Our team will show you first-hand why the critics can't get enough of this VW gem.